"Through my 50s, I thought I was in good health.  I was active, doing three boot camp classes each week and lifting weights on off days.  I'd run occasionally, maybe a couple 5ks a year.  I always ran the Bix, an annual seven-mile run and popular here.  I thought I was eating and living healthy.   Nevertheless, my weight was moving north of 230 pounds – and – I required eight daily prescription medications to manage my high cholesterol, triglycerides and blood pressure.  The weight climb and need for prescriptions were very frustrating to me.
"Then in 2013 my wife Teri and I watched the Forks Over Knives documentary, at my daughter's suggestion. The documentary referenced The China Study by T. Colin Campbell. Teri had a copy that a friend had given her but Teri hadn't yet read it. She dug it out and we both devoured the book, I even read the footnotes. I was intrigued by the study and its claims, and finished hungry for more information and confirmation, which I found. Initially I thought 'It's just too good to be true; why don't we all know this?' Now, it all seems intuitive."
Del and Teri eased into the whole-food, plant-based (WFPB) diet, trimming first red meat, then chicken and fish from their menus. "We'd make a large salad of greens and veggies and plop a piece of grilled meat on top." After Christmas 2013's holiday meal, they made the switch to 100 percent whole-food, plant-based eating. Beans, legumes, grains, fruits and veggies. "I was so convinced, not only by the science and personal stories, but also by the plain common sense of it all. And within 3 months, I felt so much healthier." 
Del's Results: Del dropped 70 pounds to what he calls his "prime" weight, the same number he weighed in at as a high school senior. He reports it's easy to maintain eating whole-food plant-based as he does.  
Del no longer needs any of his medications, not a one.
Del also reports that physical recovery between lifting and endurance efforts is markedly improved. "Before the diet change, every weight lifting day required a day off, and working large muscle groups could need several days of rest. Running the seven-mile Bix could leave me lame for several days. Now, once I've run the Bix in the morning, I can finish the day with some gardening or a bike ride. I dabble in ultra-running and have completed a couple of 50-mile runs. My goal of doing a 100 miler still stands. "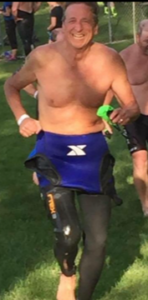 About six months after going plant-based, Del had a physical exam. He had a very good blood panel and impressive overall blood pressure and resting heart rate. "As the physical was wrapping up, doc told me that 'things were finally coming around' and he began scribbling on his pad. 'Just keep taking your prescriptions,' he said to me. I replied that I'd quit all my meds three months' prior. 'How'd you do that?' doc asked, caught off guard. I proudly replied that I was eating completely whole-food, plant-based, and after explaining the difference between a WFPB and vegan diet, he stared at me blankly and asked, 'Where do you get your protein?' Which we know now is adequately present in plant food."

(Note: Del acknowledges that quitting prescription medications without supervision is not advised.)
Transition. As for switching from SAD food to WFPB, "I found it difficult at first with the textures and our limited experience with vegetables, grains, and fruits," Del recalls. "But like anything, it has a learning curve, one that is well worth it in every way possible."
Test. Del put his improved health and recovery to the test in 2016 when his cardiologist announced it was finally time to replace Del's faulty aortic heart valve, a birth defect which wasn't producing symptoms yet, but would be soon enough. Del had been training for and was about to do a 100-mile run, and thought he'd have the surgery afterwards, but doc advised scrapping the run and getting the valve replaced pronto. Del sailed through the surgery; Teri brought whole-food, plant-based meals to him in the hospital. He was released after 3 days, and was released from physical therapy several weeks early. He came off the cocktail of post-op meds with several pills to spare. Two months and six days after valve replacement surgery, Del ran a half marathon on trails.
"I initially went plant-based for health reasons, but over time I've become more conscious of and concerned with animal rights and climate change. Everyone and everything of the earth is connected."
# # #
Del's story is part of a just-getting-started roundup of Iowa's Own Plant-Based Health Success Stories
See also Teri Preston – Bettendorf: Sheds Pounds, Takes No Meds, Recovers Quickly, Travels Smart
Feel free to post and share, stir the conversation! And if you have an Iowa plant-based success story or know of one, email me at [email protected] or on Facebook.