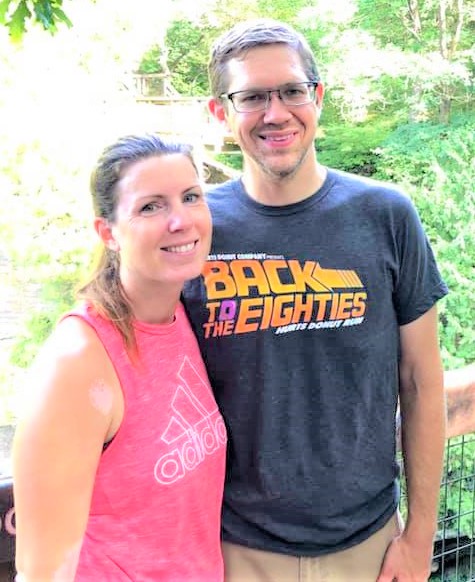 A few years ago, James and Megan Hershbarger were doing what young parents do, applying for life insurance, and submitting to the requisite physical exam, blood and urine tests. All with an eye on the rock-bottom insurance rates awarded to healthy participants. But James' labs came back showing blood and protein in his urine, indicating chronic kidney disease. "My focus shot from scoring cheap life insurance to resolving this kidney disease thing."
"I didn't see the kidney issues coming," says James, who's a father to 9-and 4-year-old son and daughter and works at John Deere as a combine harvester engineer. Kidney disease is often referred to as "the silent disease" given that it's often not detected until quite advanced. Symptoms include fatigue, trouble concentrating or sleeping, all of which are often easily dismissed or ascribed to other causes. James hadn't noticed any such symptoms. In fact, his application for life insurance helped him detect his disease earlier than he might have otherwise.

Further puzzling, James had always considered himself as having an interest in health. Prior to the kidney disease discovery, his only known health issue had been overweight – 268 pounds on a 5'11 frame – which he'd gamely tackled with activity. Around the time he and Megan married, James shucked a mass of excess by taking up racquetball and cycling, and roller blading. Later he took up running and competing in half marathons and shorter-distance races, and hiking. James has also addressed his diet with programs such as Real Appeal which is "big on portion control" according to James. How'd that work out for him? "Crappy" is his quick response. Regardless his activity or diet management, James says that whatever weight he would lose would eventually creep back on, making for a continual and frustrating battle.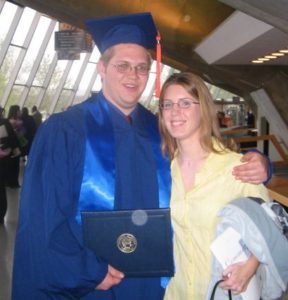 To address the kidney disease, James' nephrologist (kidney doctor) prescribed medication and suggested he adopt a vegetarian diet. James wasn't quite sure how to do this – he'd been a meat-eating enthusiast tending grills loaded with steaks, burgers, and dogs at every chance for years – and bumbled along with the notion for about six months.

But then James' employer, John Deere, offered him a spot in the work-sponsored CHIP program. CHIP is an acronym for Complete Health Improvement Program, a research-tested, intensive lifestyle medicine intervention solution designed to prevent, arrest and facilitate the reversal of many common chronic diseases. Founded in 1988 by Hans Diehl, DrHSc, MPH, FACN, the CHIP community and employer-sponsored classes and in-home study program has served tens of thousands of people worldwide.

James fully adhered to the CHIP program's whole-food, plant-based diet, noting "I tend to dive into things. And when my cholesterol and blood sugar levels plummeted after just a few weeks on the diet, I was convinced there was something to this."
James' Results: Two-plus years after making the switch to a whole-food, plant based diet, James describes "My cholesterol is rock bottom, my blood sugar is low. My blood pressure is much improved. I also used to get migraine headaches every few months – to the point that I'd stay home for a day to rest – and since changing my diet I've had just two, which have shown up when I'm dehydrated or traveling or otherwise stressed. His nephrologist has discharged him, James no longer has kidney disease.
"Better athletic performance was an unexpected boon," he says. "I can go from being totally lazy and then go run a few miles easily, without feeling as if I'd just smoked a carton of cigarettes. Prior to eating whole-food, plant-based if I'd had a long running break, I could only run half a mile or so and would need to build up distance slowly."

And after the first year of good lab results, James' nephrologist noticed that James' weight had dropped and stabilized. "He asked what I'd been doing differently, and I mentioned that I'd switched to a whole-food, plant-based diet. Then as I was leaving doc mentioned that studies were showing that animal protein is harder on the system."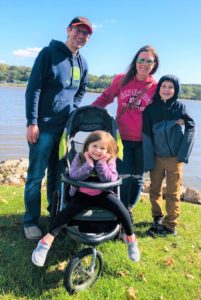 Most practicing doctors' training has not included the role of nutrition on health, nor have they all become aware, but James' nephrologist was onto it. And yes, James says, his weight is indeed stable, hanging around 175 pounds, which is much more comfortable. He has less time to for fitness activities, what with being involved in his children's scouting, baseball, and teaching Sunday School, but that doesn't affect his weight much. "Depending on my activity level, my weight fluctuates in a 5-pound range, but is otherwise stable." Without portion control, he notes. "I almost always have second helpings at dinner. I eat until I'm full and sated."
Making the Transition: "Learning how to do the plant-based diet through the CHIP program, at work, was probably as ideal as can be," says James, "That and learning cooking techniques from Anne." Anne Haring has been CHIP food coach and also organizes a whole-food, plant-based meal prep kit program at HyVee. "It's really just a familiarity thing, since we were used to cooking with salt and oil, and we don't use those anymore."

Recipe Sources and James' Favorite Dish: "I have a stash of recipes collected from CHIP and Anne. If there's something else I want to make, I just type vegan + whatever it is in the Google search box and always come up with something I can make or adapt.
"As for my go-to dish? It's quinoa with salsa, corn, garlic, onion, chili powder, cumin, and nutritional yeast all cooked together, then topped with lime juice, cilantro, and avocado, over greens. Basically Texas Caviar."
James' Travel Tips: "I travel frequently for work and have a handful of methods that help me stay the course:
"In steakhouse restaurant country, I head off pressure to eat meat and dairy by saying 'doctor's orders, don't want to wreck my kidneys.' Then I order a double of baked potatoes and vegetables.
"If my hotel has a complimentary breakfast, I'll load up on fruit, and make sandwiches of toast, peanut butter, and sliced apples for lunchtime. Toast helps the sandwich hold up through the day."
Sliced bananas and dates is another of James' favorite on-the-road sandwich fillings.
"Hit the grocery for salad bar food and good heat-and-eat food such as potatoes, pouches of rice and quinoa, and cans of low-sodium beans, and tomatoes that can be prepared in a hotel microwave. Honestly, I get weary of eating out regardless of my diet, and it's nice when the day's done to eat in."
James admits to a getting a hankering for "crappy bar food" now and then and to ordering a pizza slice or chicken nugget. "But the underwhelming flavor and indigestion quickly remind me it's not worth it."

Ripple Effect: James' wife Megan has been fully supportive of his diet shift. Megan doesn't care for meat much herself, and while she's not fully whole-food, plant-based (WFPB), she is an ardent supporter and a big fan of "rainbow wraps" for lunch. (Tortilla wrap filled with sliced red and yellow peppers, red onion, chopped dried cranberries, and oil-free hummus.) "They're easy to make, delicious, and I don't feel bloated or brain foggy after eating them," Megan reports.

Watching James' health turnaround and his weight stabilize has piqued the interest of James' and Megan's family and neighbors, who not only see James and Megan out and about but also see them shopping plant-based at the local HyVee grocery, picking up plant-based meal prep kits at HyVee, and at the local library where they've shared their experience with participants in a "How Not to Die" program. "We've also mentioned James' situation and how he turned it around in our holiday letter," notes Megan, adding that "and this year a cousin reported that she'd had an entirely whole-food, plant-based Thanksgiving dinner."

Make Your Own Healthy "Hersh" Bars with James' Recipe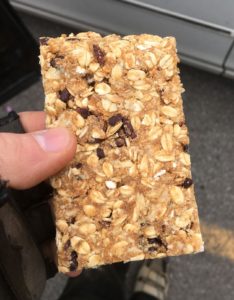 Many snack bars contain sugar and junky additives, says James, but not his trail-tested Hersh bars. James offered to share his recipe, noting that it's an approximate, but will get you close:
Ingredients
1 cup rolled oats
1/4 cup whole wheat flour
2 TBSP peanut powder
1 TBSP cacao nibs
1/2 cup water
Mix ingredients together well and spread on a piece of parchment paper. Microwave for 3 minutes, flip over and microwave for another 3. Let cool and cut into bars. Store in refrigerator.
Alternative variations would include natural applesauce, cinnamon, raisins, dates, etc. Enjoy!

# # #
James' story here is part of a just-getting-started roundup of Iowa's Own Plant-Based Health Success Stories.

Read them all and feel free to share the posts and stir the conversation! And if you have an Iowa or Iowa-rooted plant based success story or know of one, email me at [email protected], or on Facebook.