If you're hankering for holiday aromas and flavors, this delivers.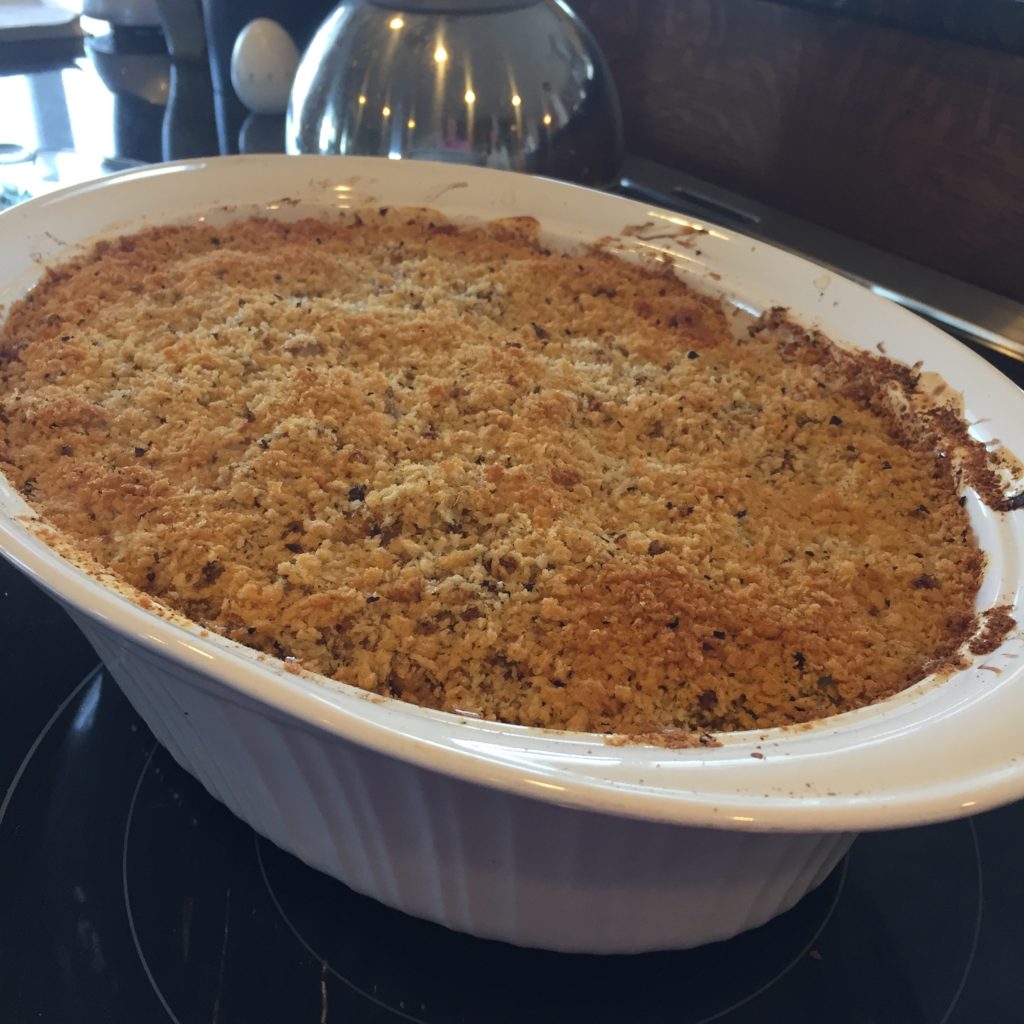 Aromatic parsley, sage, rosemary and thyme figure prominently in this creamy and hearty holiday casserole originating from Susan Voisin's chile-and-cumin spiced Pumpkin and Black Bean Casserole. Erin loved the textures in Susan's casserole and suggested we swap the bean variety and seasonings for a holiday version. It worked fabulously. Herbed Pumpkin White Bean Winter Casserole is now a staple on our holiday table, appearing a few other times during the winter months as well. For a feast, we serve it with mashed potatoes, gravy, cranberry relish, and roast vegetables. For a simpler meal, it's satisfying alongside lots of greens.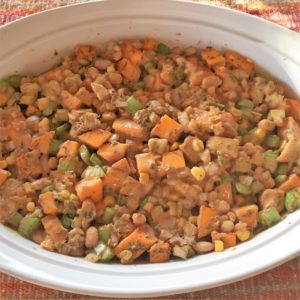 Recipe for Herbed Pumpkin & White Bean Winter Casserole:
No pumpkin handy? Substitute sweet potato or butternut squash. The recipe as written serves four generous portions. I always double it for more folks or to have leftovers.
Ingredients
– 1.5 cups cooked white beans (or one can, rinsed and drained)
– ½ to 1 cup corn, fresh or frozen
– 1 medium onion, finely chopped
– 1 ¼ cup celery, chopped
– 2 cloves garlic, minced
– ¼ cup fresh parsley
– 1 TBSP dried thyme
– ½ TBSP dried sage
– ½ TBSP dried rosemary

– 15 ounces canned tomatoes, drained and liquid reserved

– 1 pound pumpkin (about ½ one small pie pumpkin) or any winter squash such as butternut or acorn.

Sauce
– ¾ cup soymilk or other non-dairy plant milk (we use almond)
– ½ cup nutritional yeast
– 3 TBSP cornstarch
– ½ tsp salt
– ½ tsp mustard powder
– ½ tsp smoked paprika
Optional Topping
– ½ cup Panko-style bread crumbs (I use the bread crumbs when I'm feeling decadent, however, the casserole is delicious without it as well.)

Instructions
1. In a large bowl, combine the white beans with the next 8 ingredients and set aside. Add tomatoes and toss.
2. Cut the pumpkin in half. Set aside one half for another use. Cut the half into one inch slices. lengthwise, then seed and peel each slice, and cut that slice into thin pieces, about ¼ inch.
3. Toss the pumpkin into the big bowl of 10 ingredients and toss.
4. Preheat the oven to 425F. Spray or lightly oil a 2-quart casserole dish. Or, line casserole dish with parchment paper. Spread the herbed pumpkin-bean mix into the casserole dish.
5. Make the sauce; in a blender combine the reserved tomato liquid (about ½ cup) with plant milk and remaining ingredients. Blend well and pour over the casserole dish contents. Top with bread crumbs if using. Cover tightly and bake for 30 minutes. Remove the cover and bake for 20-30 minutes, until sauce is thick and bubbly and pumpkin is tender. Enjoy!

Notes
If you use fresh tomatoes , use one cup of chopped tomatoes and substitute ½ cup water for tomato juice in the sauce recipe.

# # #
–